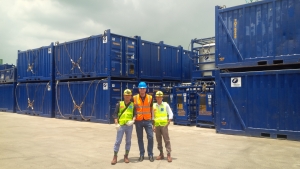 Ferguson Group Singapore, global specialists in the provision of offshore DNV 2.7-1/EN12079 containers and accommodation solutions, is expanding its presence in Vietnam.
Alongside Vietnamese partner New World Logistics, Ferguson Group Singapore has made considerable inroads into the offshore containers market in Vietnam in the last year.
Simon de Koning, general manager of Ferguson Group Singapore, has a long history in the area, said: "This region doesn't have a history of DNV2.7-1 certified equipment rental so we've been on a steep curve, explaining why we rent rather than sell our containers. We've had a number of seminars in the Vietnam to explain our products and picked up some substantial contract wins."
The partners have found that there is tremendous interest in their products, particularly in the DNV certification.
De Koning said: "We have run a few seminars for new clients, explaining why there is a need for certification and the added benefits of it. People have traditionally thought it was simply a health and safety issue, but there are financial considerations that can make a significant difference particularly if capital expenditure needs to be raised."
To support this, the company is making a multimillion dollar investment in the region, with a very large extension to their fleet of cargo carrying units that will be based in their partner, New World Logistics, bases in Vung Tau and Da Nang, Vietnam.
De Koning adds: "Our fleet has been designed to carry anything that is required on a platform. Therefore we have a wide range of cargo carrying units, such as half heights and open tops for long pieces of equipment, and cargo baskets for specialist equipment, not forgetting mudskips for drill cuttings and other waste, and dry goods containers for general cargo."
With this investment, Ferguson Group Singapore hope that they will be able to consolidate the foothold they have carved with New World Logistics in the busy Vietnamese offshore energy industry.
For more information, please contact us at sales@newworldlogistics.vn / Tel : +84 58 3820 656